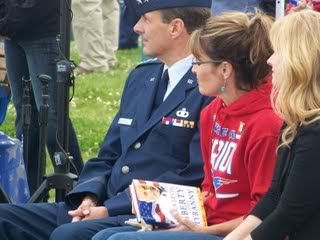 Sarah Palin is
reading a book
.
Thomas Lifson writing for the American Thinker:

Sarah Palin has already demonstrated a capacity to connect with ordinary Americans. This charisma frightens and angers many and the left, and not a few Republicans as well. I fully expect Governor Palin, whose mind displays the quality of a rapid learner who knows how to use what she has learned, to begin to ground her public statements in the philosophical depth so well-presented in Liberty and Tyranny.

The phony intellectual elitists, who have little or no understanding, much less grounding, in the fundamental ideas undergirding the American republic are not going to know what has hit them, once Sarah Palin returns to the public spotlight to discuss the future of our nation. The shallow conservative intellectuals, jealous of her connection to the taproot of the American spirit will also be bewildered.
So what about the book?
Liberty and Tyranny
Here is a review I found interesting.
By Christopher M. Capone

I've been a Democrat for as long as I can remember. I am not a far left liberal, or a "Statist" as Mark would say. I do wonder though if Mark thinks all Democrats are Statists. I consider myself a Democrat simply because I am a little left of center, I am more conservative when it comes to fiscal matters and liberal when it comes to social issues. But as a Democrat, I enjoyed this book and I urge other people who may not see themselves as Conservatives to have an open mind and read this book. It is very well written and Mr. Levin makes many great points. If you're not a Conservatives, this book will not change your views overnight, so don't worry. Also, this book is not "Republican propaganda" as other reviewers, who probably didn't read the book, have labeled it. However, this book might open your eyes to things you never thought of before. After reading this book, I do have much more respect for true Conservative principles that Mr. Levin outlines. This was a good read.
I think if Christopher was a little more up on political terminology he would consider himself a libertarian. I'm probably in the same political demographic. Fiscally conservative, socially moderate and in favor of small government. Which is why I consider myself a libertarian Republican.
Palin is my gal. Politically.
Cross Posted at
Classical Values