Michael Barone thinks the Republicans may be giving up on the culture war. Finally.
The Republicans for the last two decades have been a party whose litmus tests have been cultural issues, especially abortion. The tea partiers have helped to change their focus to issues of government overreach and spending. That may be a helpful pivot, given the emergence of a Millennial generation uncomfortable with crusading cultural conservatism.
I am glad the Republicans are being forced by the turn of events to give up on Cultural Socialism. I have thought for some time that Cultural Socialism was a losing strategy because it did not lead to smaller less intrusive government and fewer black markets. The Tea Party people are forcing the issue because their only (or at least by far their main) issue is taxes and spending. Americans are a cantankerous independent lot who do not take well to government herding. If cultural issues can't make headway on their own, no government force is going to improve their position. In fact such force will be resisted and the culture warriors will in fact be working against themselves. Alcohol Prohibition being a case in point.
It is more than evident that those who pride themselves on a knowledge of history would rather avoid inconvenient history. A documented case in point is the slighting of Thomas Jefferson in
Texas' American History books
because he was the author of the words:
Believing with you that religion is a matter which lies solely between man and his God, that he owes account to none other for his faith or his worship, that the legislative powers of government reach actions only, and not opinions, I contemplate with sovereign reverence that act of the whole American people which declared that their legislature should 'make no law respecting an establishment of religion, or prohibiting the free exercise thereof,' thus building a wall of separation between church and State. -Thomas Jefferson, letter to Danbury Baptist Association, CT., Jan. 1, 1802
Obviously a wall like that would be a problem for those who want to use government to ram their religious views down our throats. Fortunately Texas is only one part of America. And the denial of history in the Internet age is going to be difficult. Because, you know, we can fact check your ass. And not just the Internet. We have books too:
Quotations of Thomas Jefferson
If you want to do something about taxes and spending and are not too concerned about Culture Wars may I suggest Tea: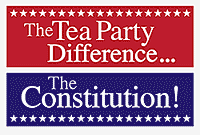 Click on the above image and learn how to spread it around.
H/T
Eric
at
Classical Values
Cross Posted at
Classical Values